Collection Luigi Bosca
Insignia
LUIGI BOSCA · Malbec
A Malbec wine with a well-defined fruity profile, that is sweet in the mouth, with the roundness characteristic of this variety. A red wine to be enjoyed in a wide range of occasions.

Buy

Made with grapes from Maipú and Luján de Cuyo.

Description
Intense and pleasant aromas of great varietal typicity and notes reminiscent of red fruits, in addition to its somewhat highly balanced floral and spicy hints. It is wide, expressive and flowing in the mouth, with sweet tannins and an excellent fruity character. Straightforward and firm in the palate, its well-integrated ageing in oak barrels can be perceived, also showing a deep, long-lasting and clean finish.

Download Technical Data Sheet
Pairings
Ideal to enjoy with grilled red meat, like skirt steak with mashed potatoes or rib eye served with rosemary rustic potatoes.
Suggestions
Recommended wine serving temperature: Between 16°C and 18°C.
Taster
The balance between the various aromatic profiles is essential for a wine to express its harmony and elegance.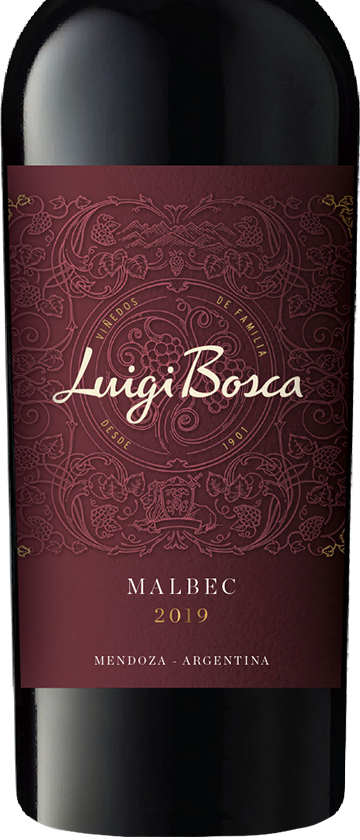 Process
Winemaking and context
The grapes for Luigi Bosca ∙ Malbec D.O.C are harvested manually. When they arrive at the winery, a selection of bunches is carried out, then they go on to destemming and later to a selection of grains. The must is cold macerated between three and five days at a temperature of 10 ° C to 15 ° C. It is then fermented with selected yeasts in small capacity stainless steel tanks. During the fermentation-maceration, extraction works such as délestages and tamping are carried out, and when the process is finished, the wine goes to new oak barrels where it undergoes its malolactic fermentation and is aged for 12 to 14 months. Finished
aging, stabilized, filtered and bottled. Before going on the market, the bottles are stored in the cellar for at least 6 months.