In recent years, a trend driven by chefs and well-known figures of the gastronomic world has prevailed in Argentina, which consists of reinventing the meals served during Christmas and New Year's Eve. With fresh, local, seasonal, and even regional products at the forefront, the aim is to enjoy a more culinary, and also healthier, experience. Therefore, real food can play a leading role in the table without leaving the festive spirit aside.
Below are 10 tips to reinvent the meals served these Holidays, including original food-wine pairings:
1. Include more vegetables in the menu
Vegetables are nutritious and light, low in calories, and keep us hydrated in summer days. This is why Holidays are a great opportunity to give a more prominent role to them, and creativity is a must: sweet-and-sour salads (including citrus fruits, apple, pear or mango), tuna stuffed tomatoes, or grilled vegetables are some healthy and delicious alternatives. These dishes tend to pair well with fresh white wines of marked acidity, such as Luigi Bosca Sauvignon Blanc.
2. Turn dinner into a real party
The incorporation of food that we are not used to eat is another way of transforming Christmas into an actual feast for the senses. Au gratin oysters are a superb option to serve with sparkling wines, as this is a great accompaniment to complex and elegant wines like Luigi Bosca Bohéme Brut Nature.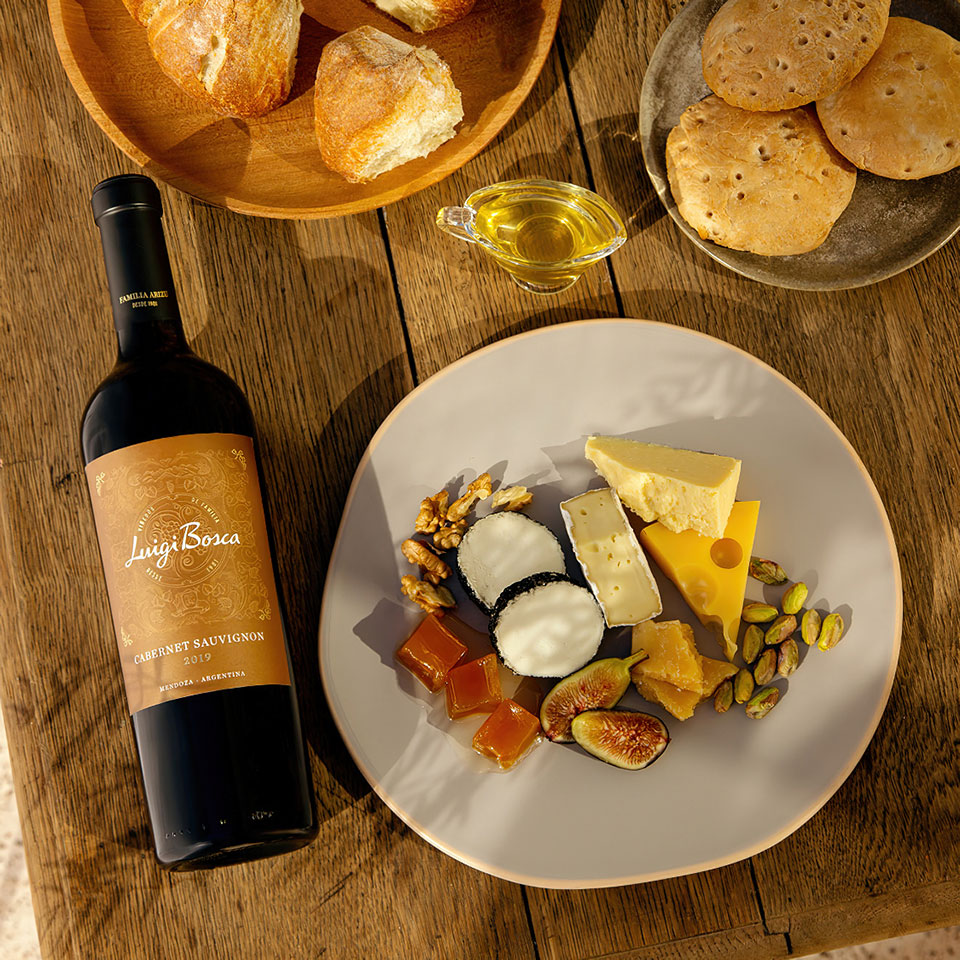 Another useful tip for responsible consumption is sticking to a single alcoholic beverage to drink on a single occasion. In that case, sparklings are great partners.
3. Cut back on red meat
In Argentina, associating barbecues with any celebration is really common, regardless the time of the year. However, this can be an extremely heavy dish for summer nights, especially if we serve it with red wine. Thus, it is advisable to reduce meat portions and incorporate a wide diversity of side dishes to the Christmas table.
4. Fish taking centre stage
If we aim at eating a delicious and healthy meal, fish is always an excellent choice. Grilled fatty fish, smoked salmon salads and ceviches are perfect alternatives for summertime celebrations, always paired with an oily and expressive white wine, such as Luigi Bosca Chardonnay
5. Choosing healthy cooking methods
Despite the food and ingredients involved in the meal preparation, the cooking method is also crucial for it to be healthier. Baking and steaming will always be a more suitable option than frying and cooking over coals.
6. Less mayonnaise, more flavour
There are many savoury and healthy sauces that can replace store-bought mayonnaise at the Christmas table and enhance the flavours of food, instead of overshadowing them. Great ideas include guacamole, lentil hummus and vegetable pâtés. In addition, all these alternatives (less oily and fresher) are a great accompaniment to expressive and fruit at core white wines, like De Sangre White Blend.
7. Moderate and responsible consumption
During the Holidays, we should all drink wine responsibly. To achieve so, we recommend drinking it slowly, so we can enjoy the flavours and aromas with no rush, eating food before and after drinking, and always drinking two glasses of water per glass of wine. Besides, you should choose a designated and responsible driver in advance.
8. Sparkling wines, from start to finish
Another useful tip for responsible consumption is sticking to a single alcoholic beverage to drink on a single occasion. In that case, sparklings are great partners since, thanks to their versatility, they pair well with all meals, from the aperitif and up to dessert. Elegant and featuring delicate aromas, Luigi Bosca Extra Brut is an important ally to drink throughout the celebration.
9. Don't eat too late
Eating very late is never a good idea, especially when the feast is long and includes several courses. Therefore, the best is to eat early so we can digest food and give time to the table talk to chat with our loved ones, open presents, and enjoy the sweet table.
10. Incorporate fruits to the sweets table
Besides nougats and comfit with high levels of sugar, seasonal fruits can provide the Christmas table with colour and freshness. Grapes, strawberries, cherries, apricots, peaches and watermelons are the best sweet and healthy alternatives to incorporate these Holidays.