Great blends are those which embody the style of a winery, the hand of the winemaker and the identity of the terroir; a wine capable of expressing many things. In the case of Luigi Bosca, Paraíso is even more than that: the most significant expression of the art of assemblage and a tribute to the 120 years of history of the Arizu family making wines in the terroir of Mendoza.
This wine is inspired by Finca El Paraíso, Luigi Bosca's oldest and most extensive estate with the greatest variety of vines planted; an authentic winegrowing laboratory, source of inspiration of many of the most important innovations at the winery, and part of the historical and emotional legacy of the Arizu family. This is why this blend of vines and vineyards is only born at the most renowned harvests from the best plots of Malbec and Cabernet Sauvignon, in our estates located in different regions of the Uco Valley: Gualtallary (Tupungato), Altamira (San Carlos) and Los Árboles (Tunuyán). Careful work is carried out at the vineyard in the plots selected, ensuring the balance, health and concentration required to obtain top quality grapes.
In this blend, each of the plots selected provides us with specific components to achieve a harmonious blend that reflects the signature style, the expertise of its winemakers, and Luigi Bosca's best harvests. Gualtallary's Malbec adds aromatic power, freshness, acidity, tension and length in the mouth, whereas Altamira's Malbec provides notes of violet and sweetness in the mouth. For their part, Malbec wines made in Los Árboles add concentration, structure and excellent aromatic intensity, in addition to black fruit, minty and lavender notes, while Cabernet Sauvignon wines born in Gualtallary provide notes of black fruit and spices, great structure and power in the mouth. Its ageing for 12-14 months in oak barrels results in a deep and bright red-violet wine, with intense, balanced and elegant aromas and a very accurate yet complex fruity expression.
Paraíso summarises our 120-year-old experience and our many years of work searching for terroirs, selecting plant material in our old vineyards, carefully carrying out winemaking processes and respecting the time needed by wines, for the purposes of obtaining the purest and strongest expression of the grape, its place of origin and Luigi Bosca's style.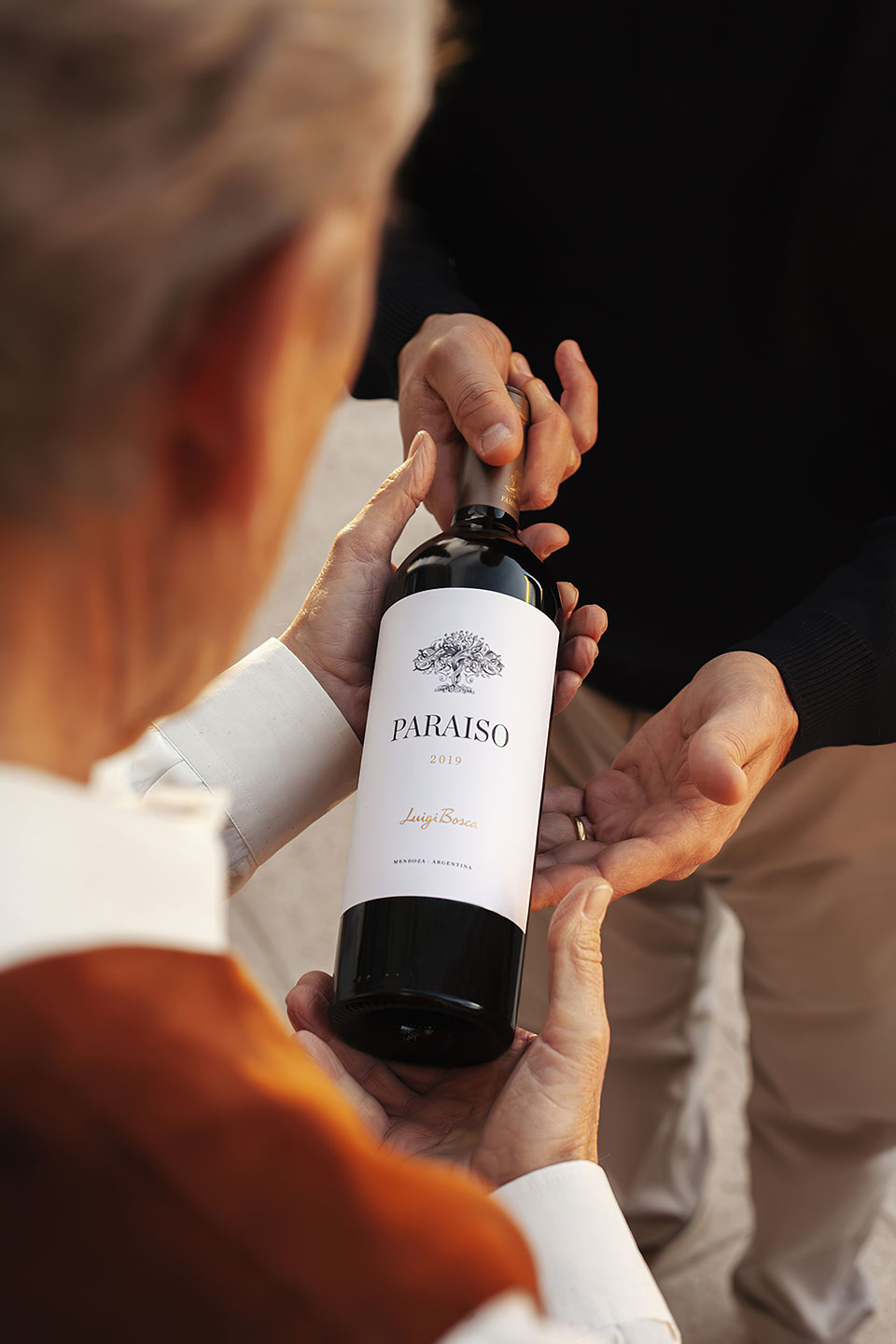 In this blend, each of the plots selected provides us with specific components to achieve a harmonious blend that reflects the signature style

"Throughout the year, some plots in our estates begin showing their differences in terms of expression, and this is when we start thinking about the components of Paraíso and taking particular care of said grapes. Thus, after closely selecting the best plants each year, we begin conceiving this wine, as one of the purest and most authentic expressions of the Argentine winemaking industry".
Ing. Alberto Arizu
"To make Paraíso, we do not just use the best grapes but also give the best of us and our wine cellar's tools. After a careful winemaking process with little intervention, our goal is for each year's assemblage to honour the signature style and our intimate knowledge of the wine thanks to the 120 years of history and expertise of our technical team".
Pablo Cúneo